BLMS Spring 2023 MAP Testing Days! Time for Panthers to Shine!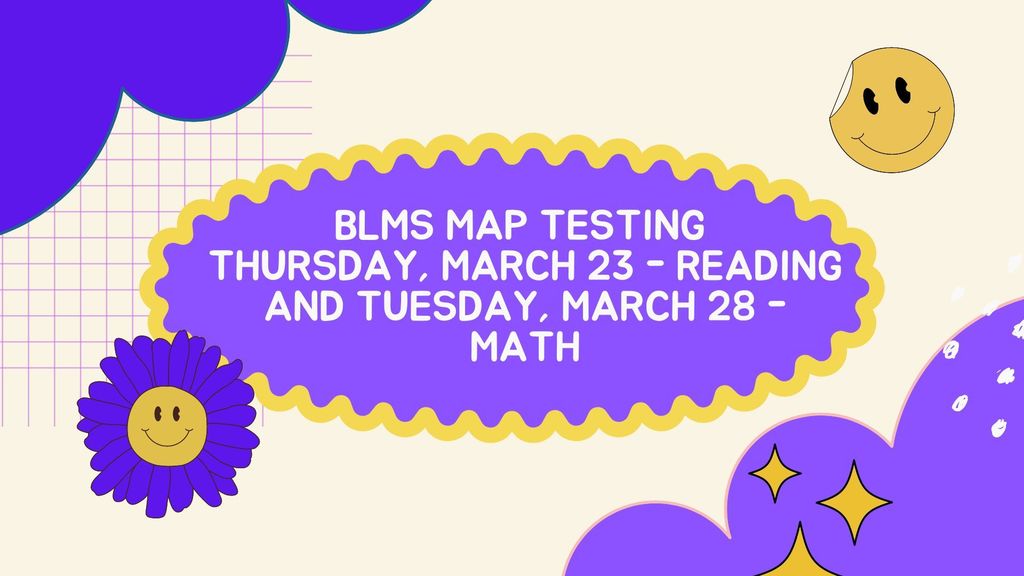 In 2022, the South Carolina General Assembly unanimously passed S.1103, otherwise known as the South Carolina Child ID law. As a result, Lexington County School District Three has been given at-home child ID kits that are available for each student. To obtain a kit for your student(s), please contact your child's school. Our schools will work with parents to arrange a pick up time. ID kits may also be sent home with students from school when requested. These are inkless, at-home kits that are stored by parents and guardians that never enter a database. This kit should take less than two minutes to complete and is designed to be stored solely by you as a parent or guardian in a cool, dry, and safe place at home. Please understand there is no obligation to request or use the kit. However, it will allow you to have your child's vital information, fingerprints, and DNA in a safe place should you ever need it. These kits are to be STORED AT HOME and should only be given to law enforcement in case of an emergency.
BLMS is excited to bring back 'Leave Your Mark' for our 8th graders! Students will be allowed to purchase ($10), design, and paint a cinder block in the hallways to leave their mark at BLMS. All student designs must be submitted to Ms. Hatfield (via email or hardcopy) by March 1st. The designs will be reviewed and approved prior to painting. Students can pay via cash or check made payable to BLMS. Please contact Ms. Hatfield if you have any questions!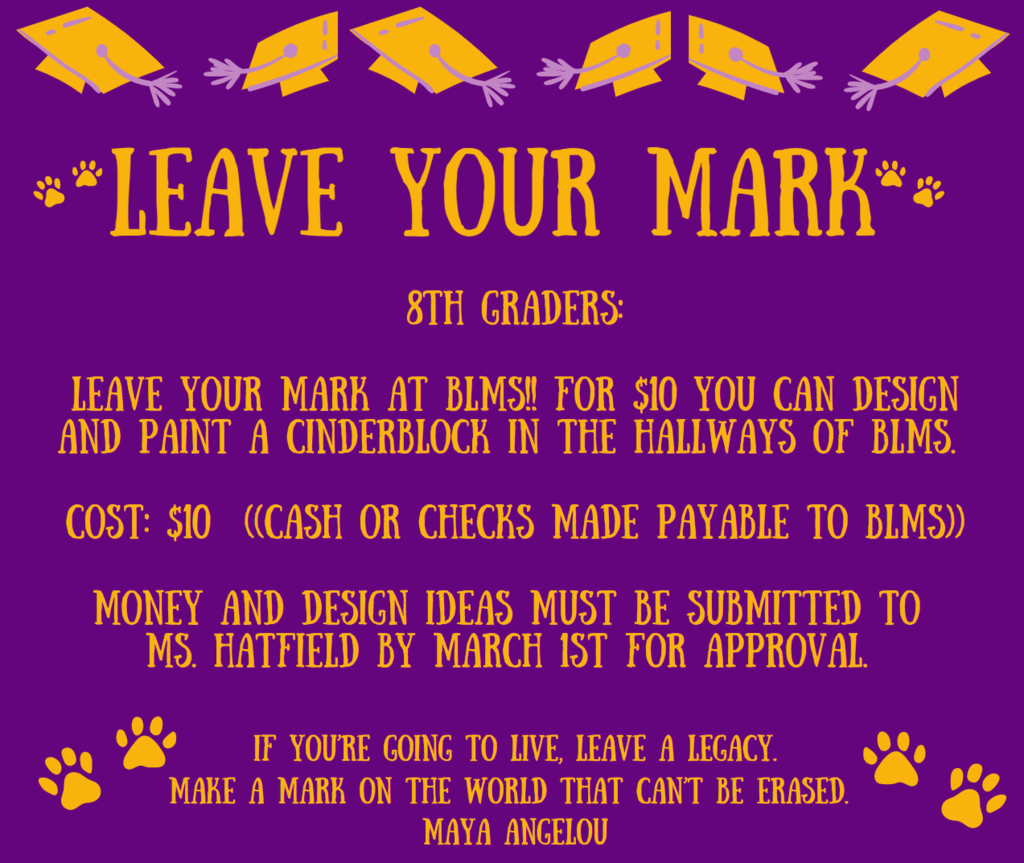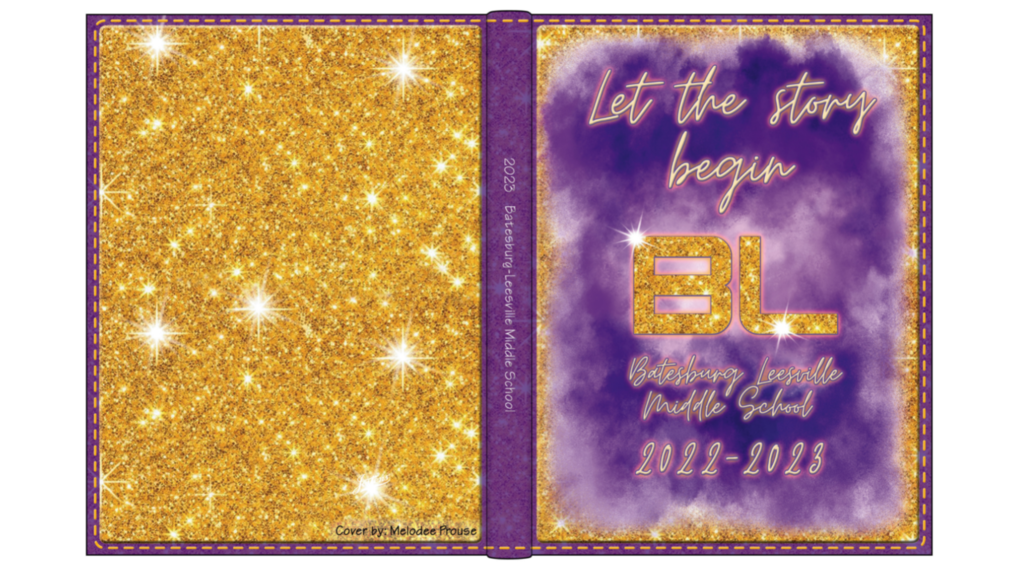 ATTENTION BLMS RISING 7TH GRADERS: South Carolina Law requires all students entering 7th grade to receive one dose of the Tdap vaccine. Please send in an updated SC Certificate of Immunization to Nurse Stacie Neely at BLMS showing proof of the Tdap Immunization as soon as possible. Appointments for this vaccine fill up quickly, so contact your pediatrician or Lexington County Health Department soon.
Join us on February 28th for BLMS Family Lunch Day! Deadline to sign up is February 17th. Cost is $5.00 for adults. Students make invite up to 2 family members. We look forward to seeing you then!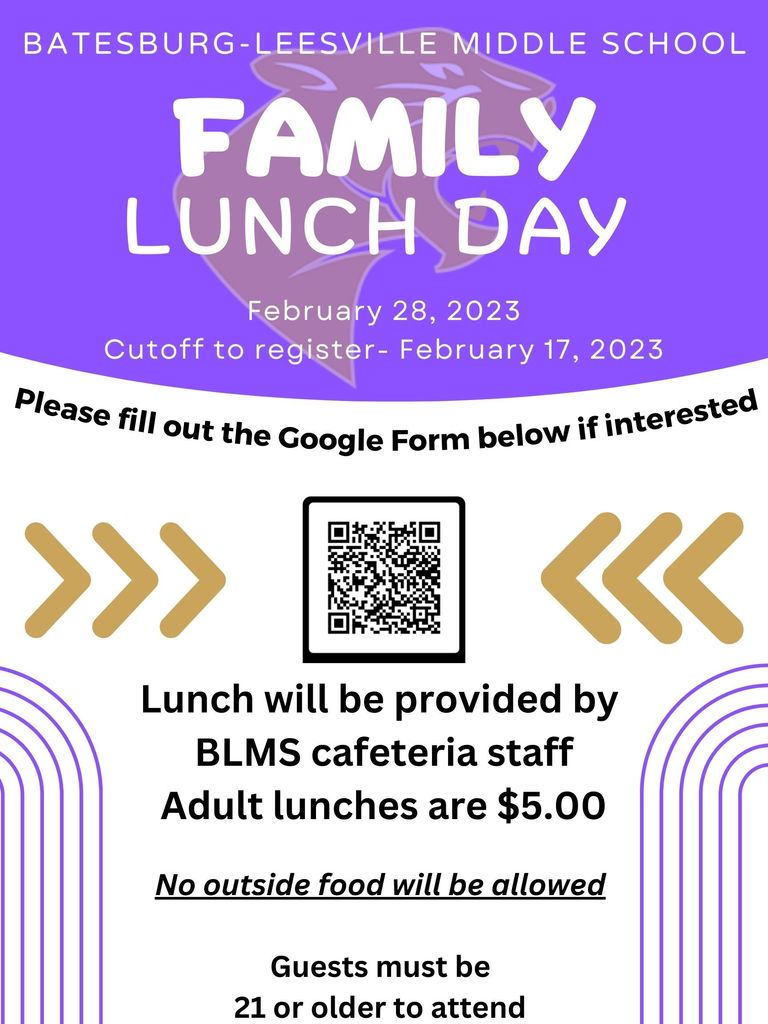 Monday, January 30th marks the 100th day of school in Lexington County School District Three! What a wonderful school year we have had thus far!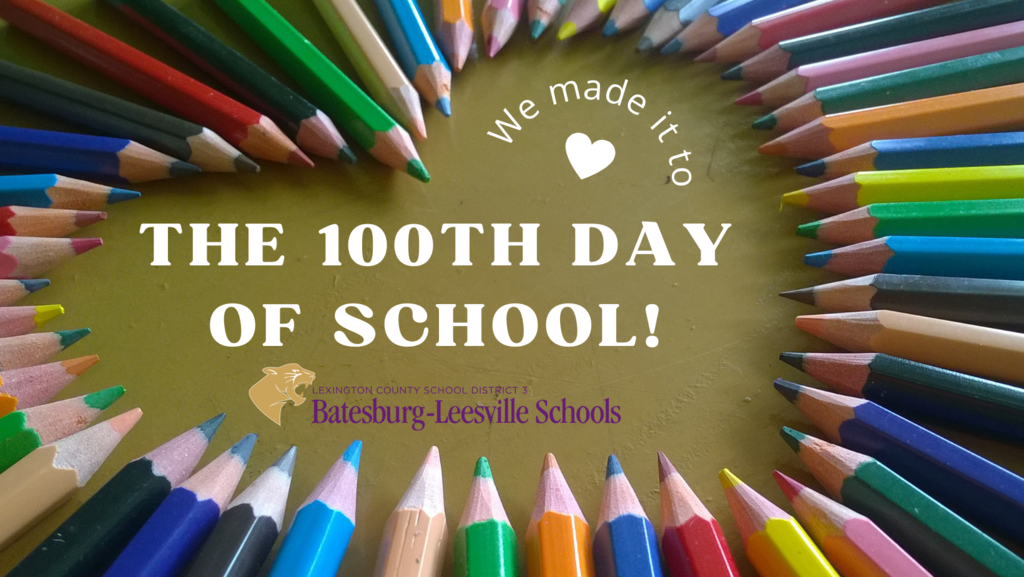 Panther Families - Don't forget that our schools and District Office are CLOSED on Monday, January 16th in recognition of the Martin Luther King Jr. holiday. We will re-open for our regularly scheduled hours on Tuesday, January 17th.

Panther Parents/Guardians - Lexington Three is staying apprised of the storm situation in our area and wants to assure you that our students are safe inside of our buildings along with our staff members. Should any further updates need to occur, they will go out via our phone messaging system (text and voice call), Lex 3 app, website, and on our social media pages. Stay safe!

We cannot wait to see all of our Panther 💛💜 students as they return to school tomorrow (Wednesday, January 4th). All of the schools and district buses in Lexington Three will run on their regular schedules. We're looking forward to a wonderful semester full of learning and growing! #lexington3istheplacetobe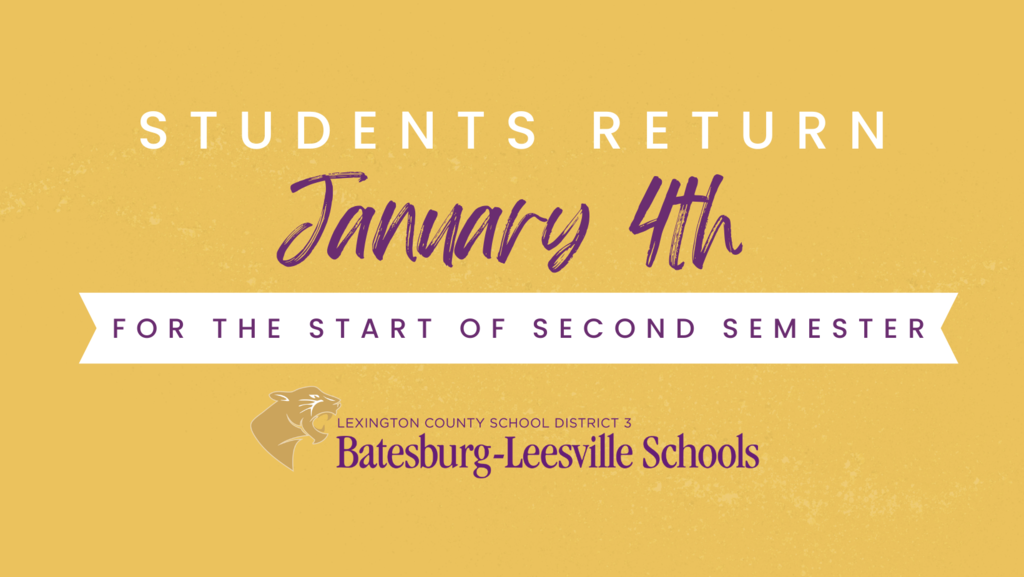 Lexington County School District Three wishes all of its students, staff, and the entire Batesburg-Leesville community a very joyous holiday season. Thank you for your support throughout the year! #lexington3istheplacetobe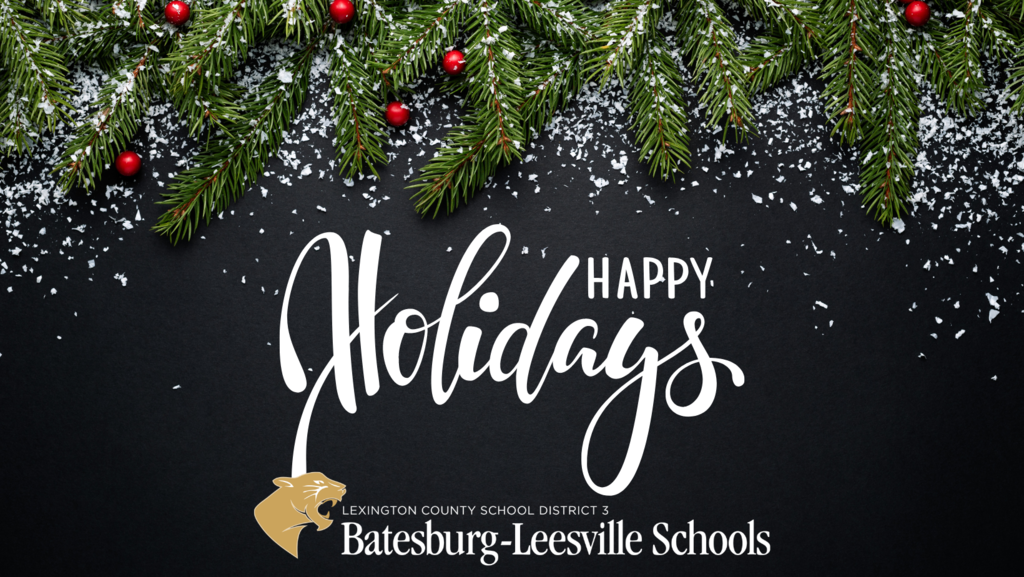 On Tuesday, December 13, 2022, the Lexington County School District Three Board of Trustees gave unanimous approval to the official calendar for the 2023-2024 school year. The calendar can be viewed by clicking here:
https://www.lex3.org/page/2023-2024-calendar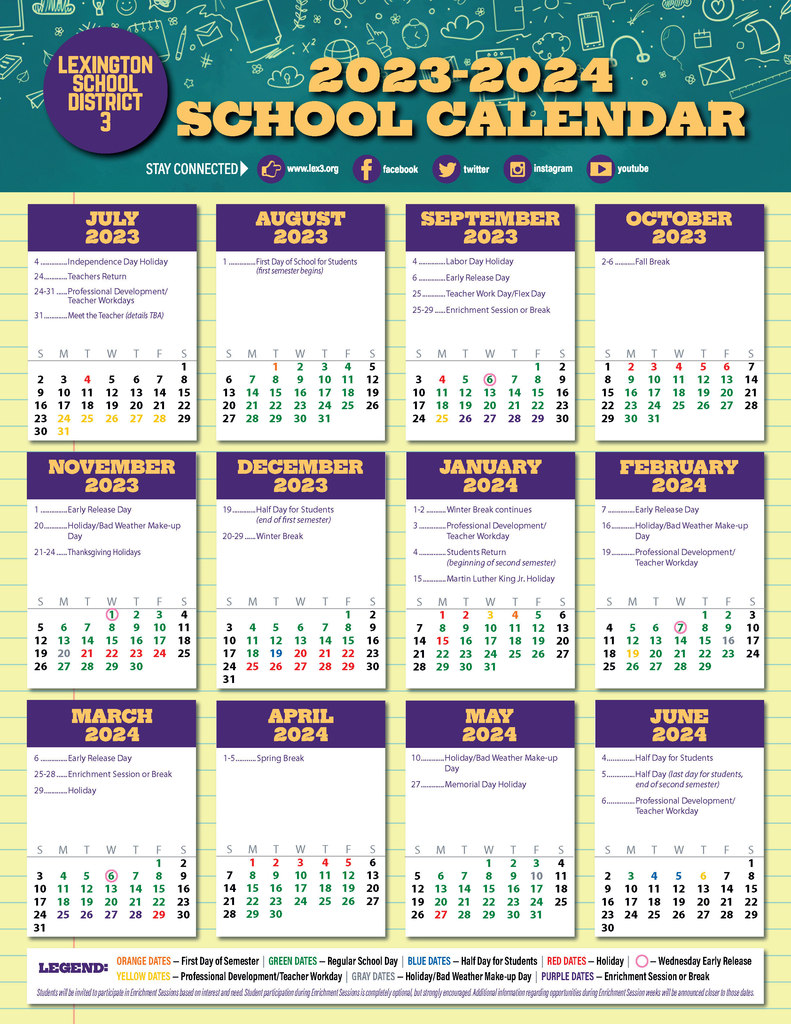 Lexington Three is offering free at-home COVID test kits for Panther families. Anyone who is interested can stop by one of Lexington Three's schools on Wednesday, December 14th between the hours of 8 am and 2 pm to pick up the free kits. Kits will only be available while supplies last.
Beginning Monday, 12/5,BLMS has Free home COVID tests available at the school for families. If you would like an at home COVID test(s), please stop by the school between 8:30 am - 2:00 pm Monday -Friday and please pick up as many as you need! Our BLMS Junior Beta Club is holding a Canned Food/Non-Perishable Food Drive from now through December 14th. Please donate canned or non-perishable food. There is a homeroom competition for the homeroom that brings in the most. This community service event supports our local food pantries. BLMS Junior Beta Club orders need to be picked up on Monday, 12/5, AFTER 2:30 pm. The product is frozen and must be returned to a freezer quickly. Orders are not able to be sent home on buses.
Junior Beta Club Induction Information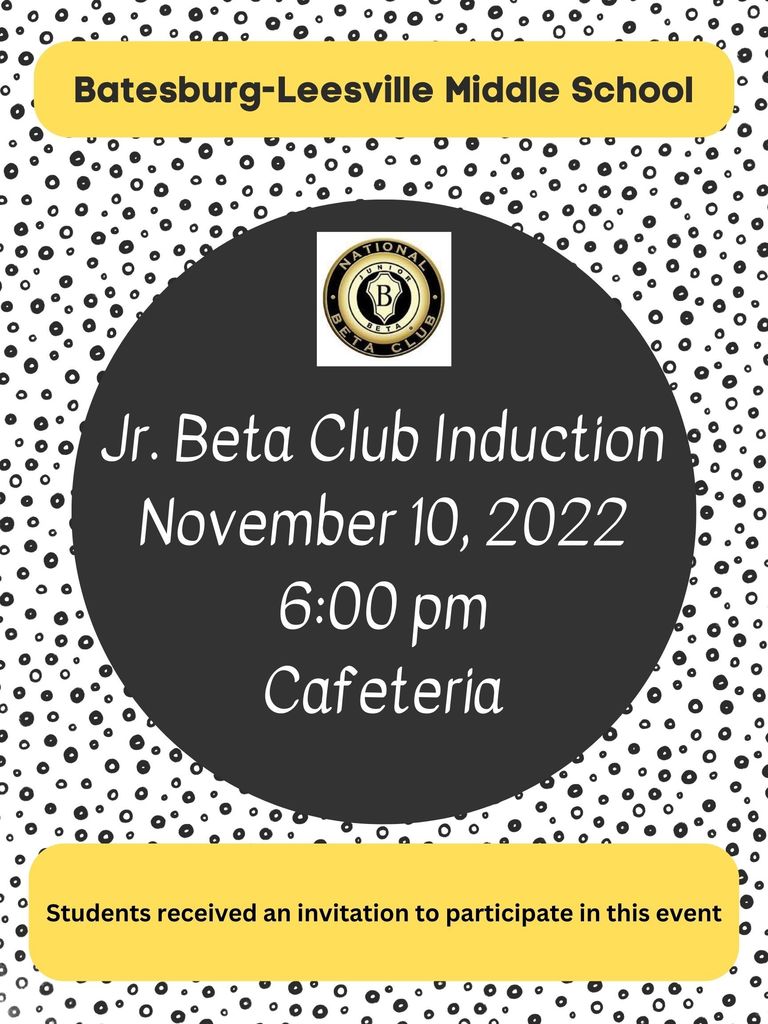 Panther fans - Please note that the middle school football game versus Gilbert that was scheduled for this evening has been moved to Monday, October 17th at 6 pm at Gilbert High School. #GoPanthers
The BLMS football game that is scheduled for tonight (10/12/2022) will not be played on Monday (10/17/2022). The game will be played at Gilbert High School starting at 6:00.

It's National School Lunch Week and we are celebrating with a very special menu at all of our schools! Be sure to check it out and enjoy a delicious meal with us!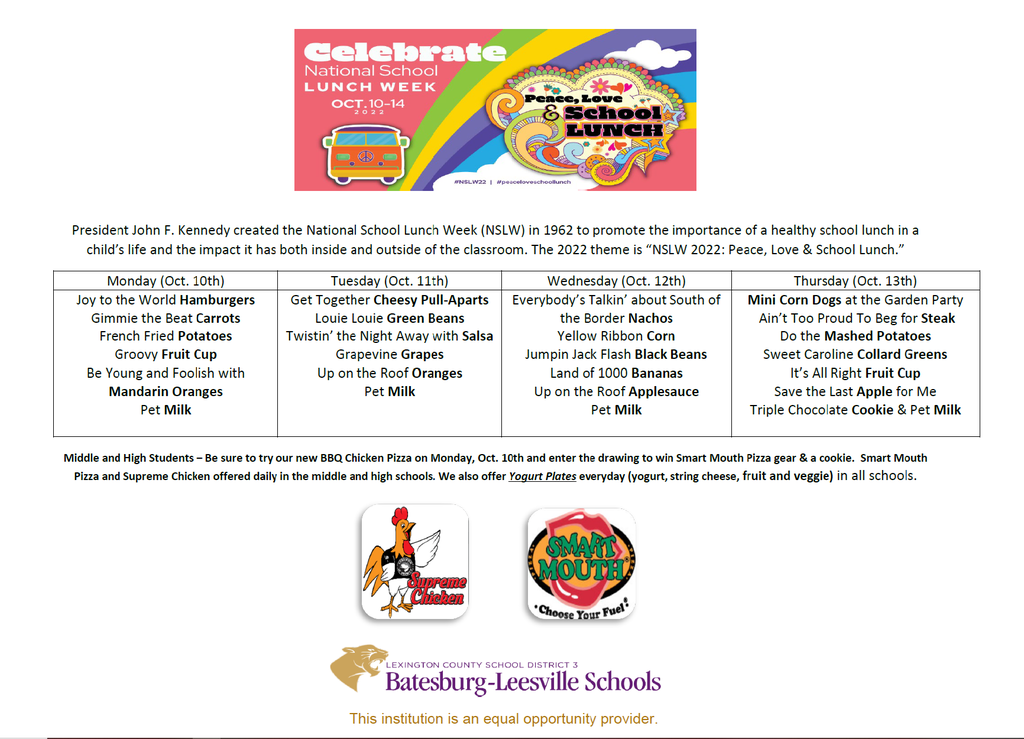 A special thank you to the student-athletes who welcomed students to BLES this morning. Be sure to check out the "Athletics" page of our website for the game schedules of all of our fall sports teams.
https://www.lex3.org/page/athletics-schedules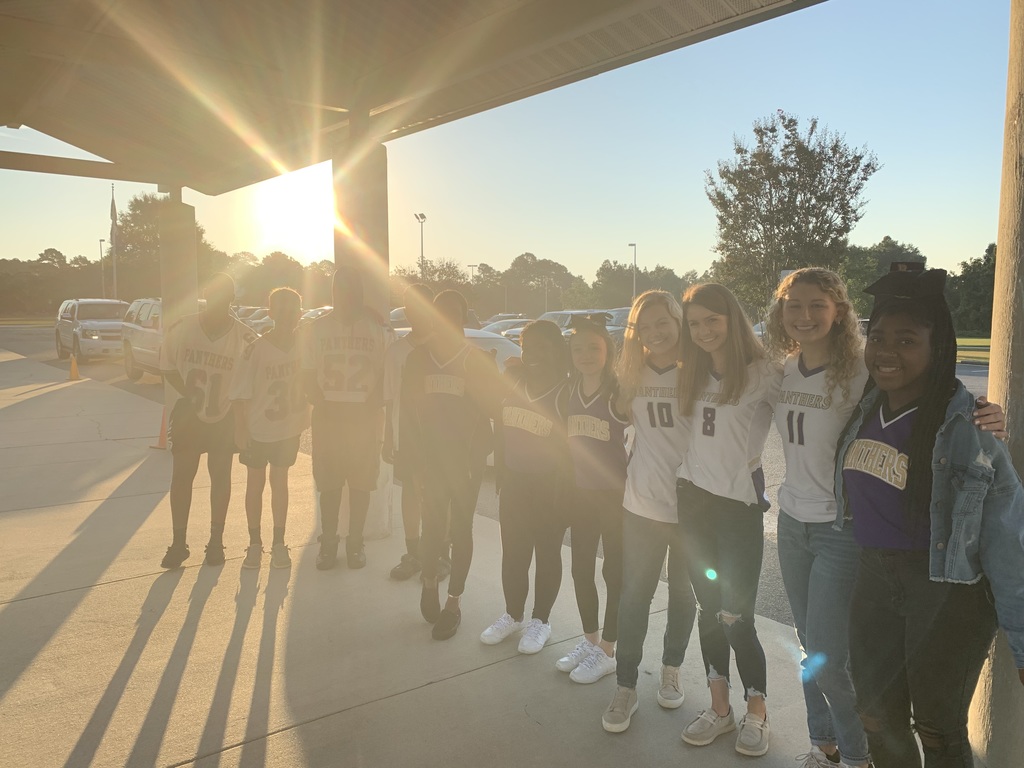 For all of our Panther fans who are planning to attend tonight's middle school volleyball game versus Sandhills Middle School, please remember that tickets are only being sold virtually. Click here to get yours now!
https://swanseatigersathletics.com/event-tickets
(No tickets will be sold at the gate.) The game starts at 5:30 pm and will be played at Swansea High School. Good luck Panthers!